Knitting Squares for
Blankets or Cushions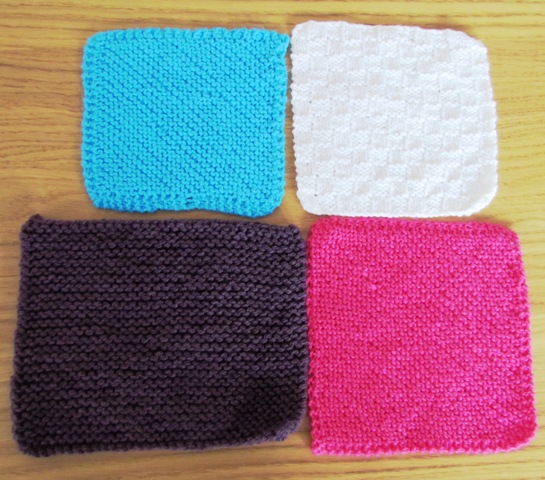 Begin learning this craft by knitting squares for blankets and practise some of the different types of knitting stitches. 
Knitting wool or yarn comes in all different thickness or "ply" from the super fine 2 or 3 ply wool to the thicker chunky and aran wool. The type of wool that is used will also determine the size of knitting needles to use in order to get a solid square.
Usually when making into a cushion cover or blanket, the squares would be fairly dense to give warmth and comfort. They would not necessarily be extremely lacy as opposed to a lace knit pattern.
Very lacy patterns or using  large needles and fine wool would have a tendency to stretch out of shape, exposing the cushion pad if it was a cushion.
As with everything in craft there are no hard and fast rules.
The person making the item is the designer and if that is the intended look, carry on with how it is intended to be.
For the purpose of these squares the knitting wool and needles will give a solid dense look.

Large thick chunky needles would not usually be used with superfine wool as this would give large holes in the pattern, equally very fine needles say number 11's would not usually be used with chunky wool as apart from the stitches probably not remaining on the needle the result would be very tight and hard to knit.
Another factor determining the size of the square as well is the number of stitches on the needle. Usually more stitches are needed the finer the wool is.

Needle and Wool Ratio for Knitting Squares for Blankets


A nice sized square for me is about 15 cms (6 inches). I like using or should I say that I have more left over bits of double knitting wool so use that and prefer a size 10 or 8 needle.
As before there is nothing wrong with trying a needle size and wool ply out and if that is not what you were after then just pull it down and start again. When you have reached your desired size, stick with the same throughout unless you are going to do some crazy patchwork knitting.
In the past few years I have knitted a couple of blankets for Oxfam and their guidance for the needle size and wool ply for knitting squares is as below.
When I have knitted the squares using the guide lines the width is more than 15 cm (more like 18 cm) so to adjust that I wouldn't have as many stitches. If all the squares were the same size then they should still sew up alright, the finished blanket would be slightly larger.
Type of Wool
Needle Size
Number of Stitches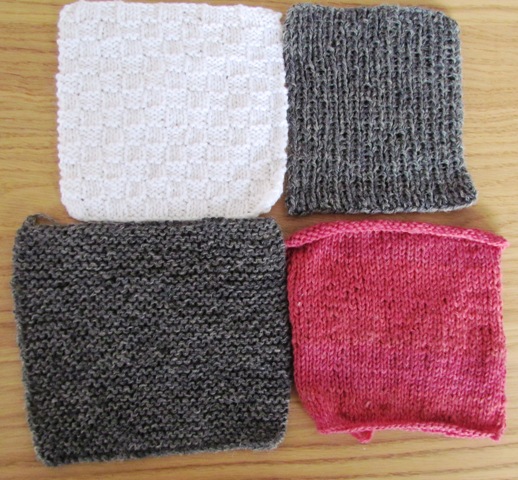 The squares shown above were knitting with double knitting wool and size 8 needles. The white one is in basket weave, grey one beside is rib knit, pink one stocking stitch (one row knit one row purl) and the other grey in garter stitch ( all rows knit stitch)
This shows that the patterns also can alter the size of the square but could stretch out to fit when sewn together.
Knitting Squares for Blankets Diagonally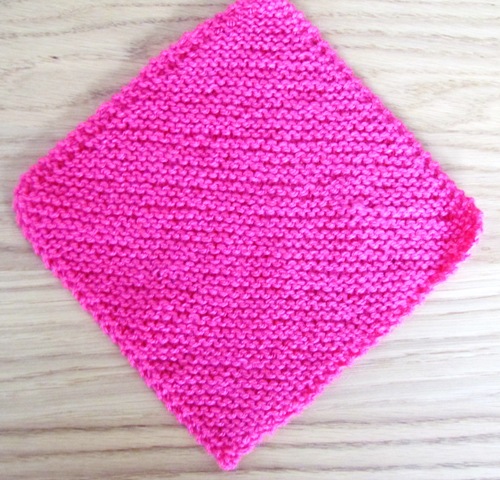 This square was knitted on the diagonal with every row a knit stitch. This knitting is usually called garter stitch.
To knit the cast on one stitch and then increase one stitch at the beginning of every row until the required size has been reached.
The decreasing then begins casting off  one stitch at the start of every row until the last stitch reached and the ball of wool is passed through the loop to secure it.
Enjoy making your squares.

Knitting Squares for Blankets
Please take care with any soft furnishing that it does not come into contact with any heat source. 
If you have found an error on this page or want some more information on sewing cushions.
Please contact me . Thank you