Making Pencil Pleat Curtains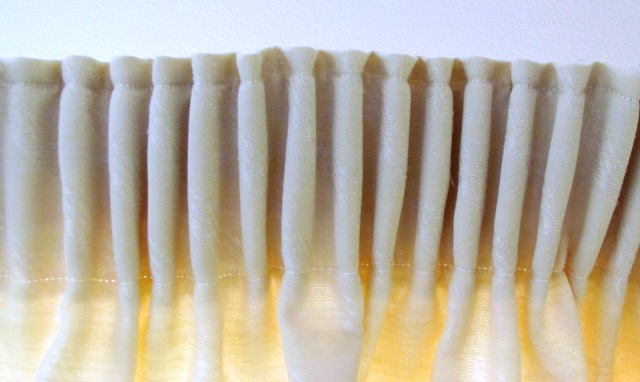 Pencil pleat curtains and probably one of the most popular choice of curtain heading, it gives a neat crisp look to any room. It is one of the most popular curtain headings and will fit many types of tracks and poles.These can be fitted into a bay window as well. The amount of gathering is really a personal choice as some like tight pleating while others make the curtains one window width and like less pleating.

If the window has a valance then this will usually be the type of heading used especially when buying ready made ones.
For this type of curtain a heading tape will need to be bought which will be sewn onto the curtain before it is gathered. The amount needed would depend on the width of the curtains.


Inserting Heading Tape for Pencil Pleat Curtains


Before adding the heading to the curtains, the window will need to be measured first and then the amount of fabric calculated. Bear in mind that if tie backs are wanted and to be made in the same material then extra would need to be added to the calculated amount of fabric. Any alterations such as pattern matching would also need to be done before hand.
The side and lower hems also could be finished with any lining attached. Linings could also be attached separately when the curtains are finished.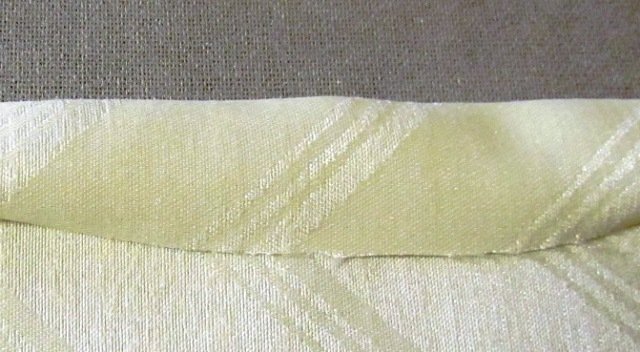 Turn down the top of the curtain catching in the lining underneath if necessary. Another way the lining could be caught in is by placing it right side up so it is just lower than the curtain edge. Pin and press with iron.

Place the pencil pleat tape on top of the folded edge of the curtain or the curtain and lining.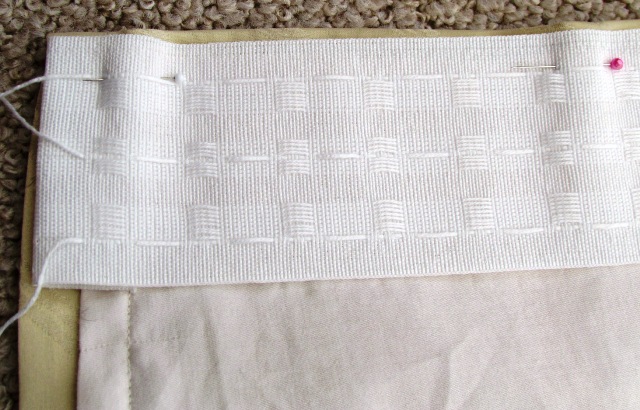 Pin in place along the top and bottom edges so that the tape does not slip while sewing.
Machine sew along the top and bottom edges of the heading tape sewing both in the same direction to avoid any puckering.
When sewn gather the tape by pulling the cord of the heading tape, secure both ends and then ease the gathering evenly either before or after hanging on the track.
Insert the track gliders into the heading tape and attach onto the track.
The curtains are now finished and any left over material could be used to make a cushion. If there is not enough for a whole cushion then use the bits with contrasting material and have a go a patchwork one.
Return from Pencil Pleat Curtains to Types of Curtains
Please take care with any soft furnishing that it does not come into contact with any heat source. 
If you have found an error on this page or want some more information on sewing cushions.
Please contact me . Thank you