Making a Quick Quilt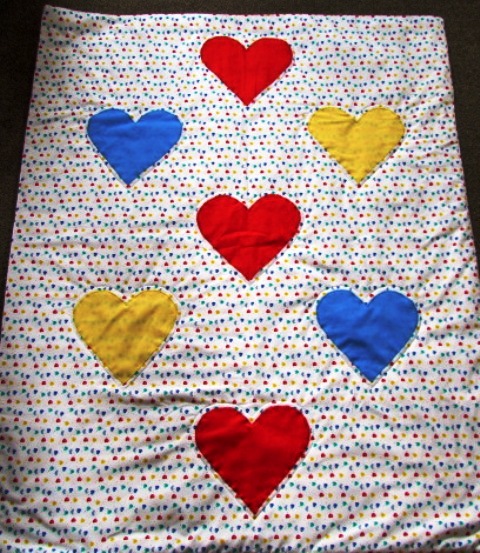 Sewing a quick quilt could be done in an day or an afternoon depending on the type that is being made.
Basically a quilt is a term used for a padded blanket or cover. Great for both babies and adults alike. For a baby to lie on when on the floor,  when out and about or visiting and a cover in a pram or pushchair.
Quilts are equally great for adults, to put on a lap when watching television for that extra bit of warmth or more important a cover up at an outside event. They can be used as a decorative  bed covering at home, for use when camping for an extra warmth when the temperature drops.
If someone is confined to a wheelchair then a quilt, which will have no straggly bits, can be used to reflect the personality of that person instead of a plain blanket. Important for all no matter their ages.
To make the padded cover sew a top fabric, a bottom fabric and a padded lining all together. If the fabric used is in one piece say one metre then these are achievable in a day. Many of the quilts covered in this website are sewn as a  quick variety such as the quilt part of making Quillows.
If the fabric is made up of a number of bits of smaller pieces of fabric such as making a patchwork quilt where many of the same or different patchwork blocks are made first before the actual covering is sewn together then the time will be extended considerably. 

Sewing a Quick Quilt very simply.


Decide on the size of the quilt, the larger the size the bulkier the sew. It can be done but may take a little longer.
Cut either two pieces of material slightly larger than the measurements to allow for seam allowances. Both can be cut out of the same fabric or two matching/contrasting fabrics.
Cut the wadding or batting the same size as the top and bottom fabric pieces.
On a table or the floor, lay one piece of fabric top side up with the other fabric piece top side down so both right sides are together. Place the wadding on top and pin all sides remembering to leave a gap in the middle of one of the shorter ends. This will allow for turning the quilt right side out.
Sew layers together then trim seams and turn out through the gap making sure the corners are pulled out fully.
Sew the gap closed by top stitching by hand or machine. This machine top stitching can be done all the way around if wanted.
The three layers need to be sewn together and this can be done in straight stitching up and down and / or side to side or in a pattern.

Design Ideas for a more complicated quilt.


Patchwork - This can be the top, bottom or both layers of fabric. The pattern will need to be made first, to the size required, before sewing the layers together.
This could be using some patchwork blocks or just sewing different coloured or patterned fabrics together in strips or squares.
Applique - The pattern on the fabric needs to be made first and when the layers are sewn together, topstitching can be done over the pattern to hold all the layers firmly.
Enjoy making your quick quilt.
Please take care with any soft furnishing that it does not come into contact with any heat source. 
If you have found an error on this page or want some more information on sewing cushions.
Please contact me . Thank you