Patchwork Blocks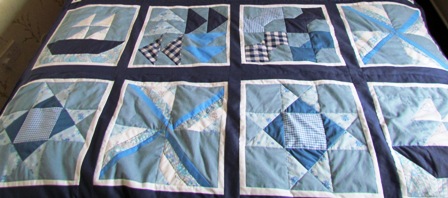 Traditionally  patchwork blocks are made from scraps of leftover material by cutting into squares, triangles, rectangles or any other geometric shape that has straight sides. These shapes are then formed to blocks or squares to be ready to be sewn into a quilt or cushion cover.
| | | |
| --- | --- | --- |
| Album | | Card Trick |
| | | Land of the Midnight Sun |
| | Milky Way | |
| Prairie Queen | Rocky Mountain Puzzle | |
| | | |
When choosing the fabric for your patchwork think about the item to be made. The different blocks can be made with different colours of fabric but there should be an overall theme and many traditional patchwork quilts will have fabrics that blend together. Modern ones will have colours and patterns that clash but look well together make a very bright and vibrant quilt. As with all sewing the design is in the makers mind so the result will be perfect for them.
The best type of fabric to use is 100% cotton as this does not stretch and are easily sewn. If the fabric is not new and remnants are used then it is best  to pick fabric of the same weight. It is also best to wash all the fabric before you sew them to make sure they don't shrink or their colours run. If the colours do run then wash that material a few times until it stops or decide to change to a different fabric.
There are many craft outlets that have a good choice of fabric such as Minerva Crafts.

Preparing to Sew a Patchwork Blocks


When sewing patchwork it is really important to be as accurate as possible with all the cutting out, getting the measurement right and having the same seam allowance for everything.
This will ensure that the block pieces fit together well at the end to give a nice complete block.
The measuring and cutting will take a fairly long time and this is a craft that can't really be rushed or else the seams will have to be re-done a few times.
The end result is worth it.
Differences in some Blocks
Once all the different shapes have been cut out, these are sewn in stages until you have the complete block.
Some blocks are first made into a nine patch block such as the Ohio Star. The nine separate smaller squares are made first and then joined in groups of three to create the nine patch block.
With other patterns the fabric is made into strips and then cut out like the Roman Pin Wheel design.
You can also make up your own by experimenting with different shapes.
Enjoy making many patchwork blocks.
Please take care with any soft furnishing that it does not come into contact with any heat source. 
If you have found an error on this page or want some more information on sewing cushions.
Please contact me . Thank you