A Traditional
Christmas Stocking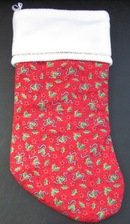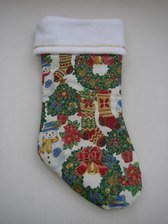 The hanging of a Christmas stocking has usually been done by small children usually at the end of their bed, or on the mantelpiece, to receive small presents from the Santa Claus or Father Christmas.
In earlier years an empty ordinary sock was used. Nowadays socks are still used, but many Christmas stocking are either handmade or shop bought to be used only at Christmas. These can be personalised with the child's name so Santa Claus knows which stocking belongs to each child.
The children would then have to wait until Christmas day to find out whether they had been good enough all year to get a present from Santa Claus. The presents inside the stocking are traditionally the only ones that are given by Santa Claus with the family presents wrapped and place under the Christmas tree.
Sometimes money or fruit is also given inside these stockings and during the war years this was usually the only items the majority of children got due to rationing.
Making your own Christmas Stocking

The Start
There are many ways to make stockings to hang up at Christmas but they all start more or less the same way as you would when making cushions. You need to decide on the size and shape and then make a pattern.
The patterns can be drawn free hand or a sock can be drawn around to give the basic shape and then this would have to be widened.
Fabric
There are many fabrics that can be used to make stockings and the one you decide on will depend on the type of look you want the stocking to have.
Some are made with single thickness of material and these will hang loosely such as cotton or fleece.
If you want one that keeps it's shape and is sturdier then wadding can be sewn between two pieces of material.
Felt falls somewhere in between as it is sturdy but will only be one thickness.
Delicate fabric can be used such as  silk if you want a luxurious one for an adult.
Usually a washable material like cotton or a cotton mix is used as stocking tend to be used by children.
There are some lovely fabrics at Minerva Crafts to create you own individual ones.
Sewing

Once you have decided on the pattern and the material the the pieces can be cut out and then the seam around sewn together if using wadding make sure it had all been caught in the seam.
Finishing
A white fleece frill is then attached to the top and decorated with Christmas braiding or ribbon. A loop can be attached to make it easy to carry or hang on a hook if required.
If plain fabric is used Christmas pictures or symbols can be added with fabric glue or appliqué.
These can be personalised with a name if wanted and can be done by hand using a simple chain stitch.
Enjoy making your Christmas Stockings.

Return from Christmas Stocking to Christmas
Please take care with any soft furnishing that it does not come into contact with any heat source. 
If you have found an error on this page or want some more information on sewing cushions.
Please contact me . Thank you