Mini Quillows

A handy little cushion
These little mini quillows are smaller versions of the larger quillows, I really adore this type of cushion and many of my family love snuggling under one when they need an extra bit of warmth.
I also realised the limitations of the larger varieties, when a quillow is pulled out to show the single sized quilt inside, this may be too big for confined spaces like travelling in a car or carrying around with you.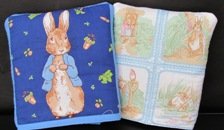 To add to the versatility of this type of cushion I have reduced them in size so the cushion itself is smaller and easier to carry around with you.
The size of the quilt inside was made cot size, 26 inches (66cms) wide and 44 inches (112cms) long.
Many shopping outlets have a lovely selection of fabrics with Minerva Crafts as an example.

Mini Quillows can be used for

Travelling

These are ideal as travel cushions as larger quillows can be a bit cumbersome in the car. The mini variety can be used to give some support to your back or to put around a child in their car seat for extra warmth. These are also small enough to fit into a bag to carry with you.


At Concerts

While you are at a concert in the park or another outside venue these quillow would be handy as a outdoor cushion during the day. As the concert progressed and the day started to get a little chilly then the quilt could be turned out to provide a cover for your knees resulting in keeping you warm without spoiling your enjoyment.


For Babies

Newborn babies should not be given a pillow or cushion for their heads but why not take them out with you to give your baby something to lie on or an extra layer in the pram. These little quillows could give a bit of support when your baby is learning to sit and the cushion used for extra padding.


For Wheelchairs

These could be made to suit the individual person, whether they want them to stand out and be noticed or blend in with the surrounding colours. When some extra warmth is needed the quilt could be pulled out and tucked in around their legs. The small cushion can easily be put into a bag when not needed or used for more support.


For Yoga

These could be used for yoga by providing a mat to sit on. The quilt could be folded in half if needed while seated or used as an extra layer in cooling down.
I have given a few ideas of how these mini quillows could be used, but there are probably a lot more that I haven't thought of.
There are a range homemade quilts, cushions and other items available and if the colour is not to your taste then please contact me with any requirements.


Return from Mini Quillows to Quillows
Please take care with any soft furnishing that it does not come into contact with any heat source. 
If you have found an error on this page or want some more information on sewing cushions.
Please contact me . Thank you