Camping and Caravans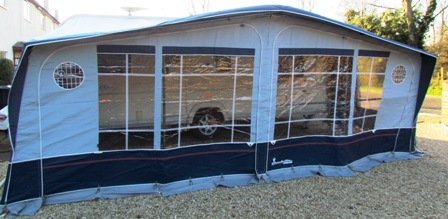 Camping and caravans are a fairly new hobby for me but I already know that it is a lovely way to see the country. I have been camping in most of the seasons so also know that you need to bring things to make you comfortable and in my case the most important is warm!!!!
"What has this got to do with a site on cushions", I can hear you say and normally I would agree but unless you have gone camping you can see how versatile everything has to be.

The celebrations and comforts of camping and caravans.


When purchasing a caravan or tent you will get the basics and then the rest is up to you, how much or little you want/need to take with you. Picture yourself resting after a hard day on the bench seat provided and you will soon begin to need some extra support.....this is where cushions come in. You can add your personality by making your own and giving your camp a sense of home.

Cushions - These can provide the much needed support but as space is in short supply these would need to be slightly smaller than those used in your home. Bolster cushions are great for head rests, adding extra support at the base of your neck or the small of your back and can easily be tucked at the side or the back of the bench seats.
Try your hand at patchwork for your cushion front,  a quilt for the bed or a picnic mat for the floor or table.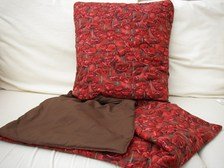 Quillows - For me these are a camping must, great during the day as cushions. They are made a little smaller at 17 inches (43cms) than the usual 18 - 20 inch (45.5 - 51cms).
The mini versions are even smaller. During the evening when the temperature begins to fall shake out the quillow inside and you have a quilt or a lap cover if it is a mini. During the night the quillows can be an extra layer for warmth.
The children can then have something from home to give them comfort or keep them as a camping buddy if the front has their favourite theme.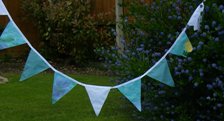 Bunting - What better item to enhance your camp site or caravan awning. Great for celebrations, making your area stand out or just because you like bunting. 
Some can be made to match your picnic mats or if in a patriotic mood red, white and blue is a must.
On rainy or relaxing days why not take some type of handicraft to do while away like patchwork, cross stitch or knitting.
Enjoy your holiday wherever you go .....sit back and relax.

Please take care with any soft furnishing that it does not come into contact with any heat source. 
If you have found an error on this page or want some more information on sewing cushions.
Please contact me . Thank you