Wall hangings


Wall hangings are flat decorative objects that hang up and lie against a wall. They were very popular in earlier times to insulate the castle walls.
Tapestries are woven cloth pictures and are sometimes created to show an important event that has happened at a particular time. 
In the Middle Ages they showed the ruling coat of arms or a motto. These were popular because they were so mobile and could be taken from one place to another, or carried with them into battle camps.
They are an early form of textile art and fabric has been used in recent years to decorate the walls of our houses. 
Years ago it was a fad to put fabric onto the walls as wallpaper and because some fabric is so detailed and beautiful, a small or large sample can be hung as a picture on a plain wall.
Types of Wall Hangings


The first type that comes to mind is a cloth advent calendar that has little pockets to put in daily treats or small gifts leading up to Christmas.
Another type would be a year calendar made of fabric and hung on a wall, this would have a wooden dowel at each end to give the calendar weight and lie straight. To this day I remember the one we had in our kitchen as it was a talking point at the table. As children we used to try to remember all the pictures and symbols that were under each month name. This was a great memory game.
Different crafts can make lovely flat decorations such as crochet or macrame.
Making Wall Hangings from Sewing


Sewing is really versatile from making things to wear, to use and also wall hangings will make amazing pictures to hang up in your room.
These pictures could be made from scratch, like an artist with a bare canvas, waiting for a scene to emerge.
They can also be padded in certain places so different parts of the picture stands out a little.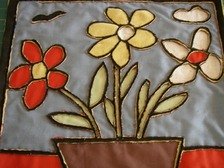 Sample of reverse appliqué
Applique is one technique where you can create a picture using different colours and textures of materials to make the image come to life so to speak.
A different look to a picture would be to try a little reverse appliqué, this is where the picture is sewn through a lot of layers of material and then cut out to get to the colour needed. This gives a look of depth to the overall result.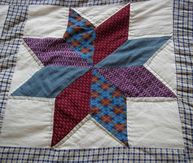 Any type of block could be a wall hanging
Another way of combining material together to get a picture is patchwork.
Pieces of patchwork shapes can be sewn together and then attached onto a background piece or some patchwork blocks such as the sail boat block is almost a picture in itself. The log cabin block could also be used to show the colours you like to ones to match your room.
A Picture Panel
If you are not confident with making a picture from the beginning another way is to use a cushion panel picture whether it is to display animals or birds that you like or maybe the panel will really match in with your colour scheme. 
There are a few picture panels for sale on the Homemade crafts page
These would be made like a cheater square when making a quillow.
Different aspect of the picture panel could then be quilted with as much or as little as you want.
Sometimes when a panel is quilted the effect is really astounding as this sometimes gives the illusion of a 3D effect.
However you decide to make your picture, the result is bound to look great.
Why not let us all see your creation by putting it in the cushion gallery.
Please take care with any soft furnishing that it does not come into contact with any heat source. 
If you have found an error on this page or want some more information on sewing cushions.
Please contact me . Thank you