Sewing a Cathedral Window
Quilt Block


The Cathedral Window Quilt block design has a stunning look and is a little more complicated than the block patchwork of the Log Cabin, Dutchmans Puzzle, Bow Tie, Ohio Star and Sail Boat or the strip sewn Roman Pin Wheel.
The technique used for this design is of the folding of the material which gives a thicker feel to the finished product. Many shopping outlets such as Hobbycraft and Minerva Crafts have a lovely selection of fabrics.

Steps in Sewing the Cathedral Window Quilt Block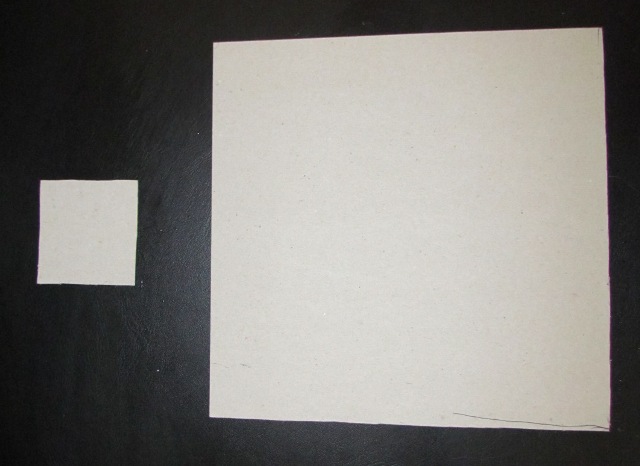 There are different ways in which to begin this patchwork design on way is to make a template of the larger and smaller squares to use to cut out your material. Another way is to work out the size of your finished patchwork and then increase the square to get to the size to cut out, then as you fold the material the smaller squares are cut as needed. Either way gets the same result so it is a matter of what you prefer to do.
Try to cut your patchwork pieces as accurately as possible to ensure the block fits together well.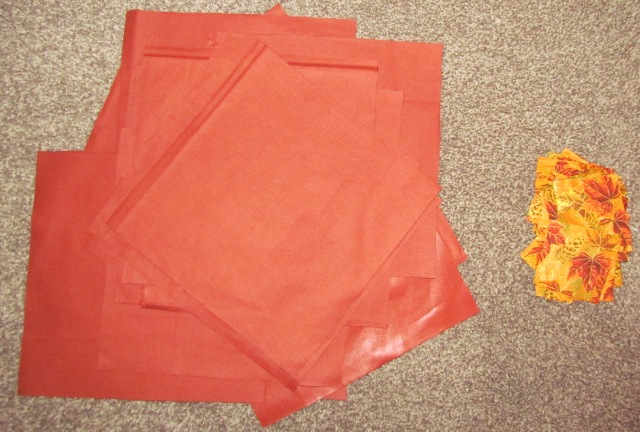 Place the templates on the fabric and cut out the require amount of large and small squares. These can be cut out one by one if wanted

First the raw edges need to be turned in by about 7-10cms, press with iron. Then fold opposite corners to each other diagonally one side then the other, press to get a crease to show the middle of the square.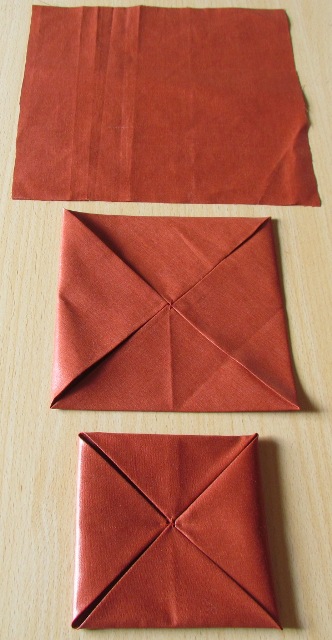 Take each corner one by one to meet in the middle of the square, press well with an iron. This will decrease the size of the original square. To keep the folds in place, tacking stitches are use to secure the points in the middle of the square.
Repeat the folds again, press and secure the points decreasing the square size again.
After the second folding place individual squares right sides together and hand stitch the seam at the back. This hand stitching will eventually be covered by the small squares. Continue to join the squares together into strips or a larger square.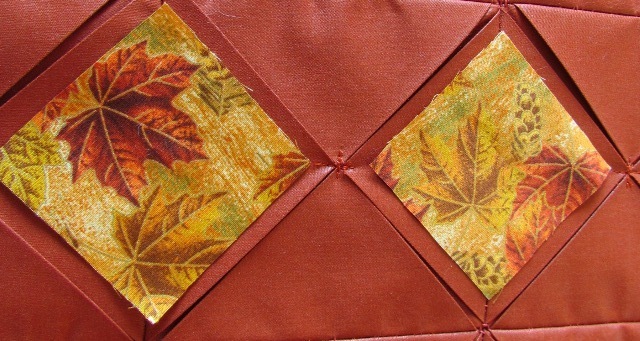 Place the smaller squares over the area that has been hand sewn together, leaving all the sides that are next to the small squares a folded edge.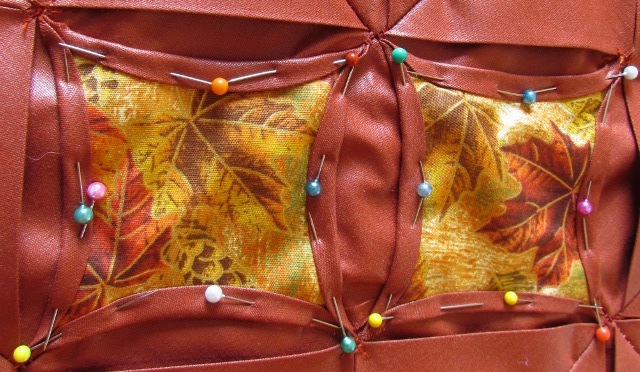 When the small squares have been placed onto the folded base material, turn back the folded edges so they cover the raw edges of the small square. Pin in place to secure.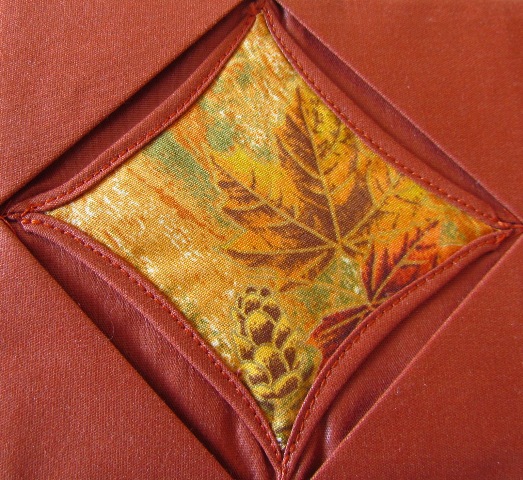 Machine or hand sew in place and continue for the other small squares until all are in place.
This is now ready to turn into a quilt by adding more blocks or having this a centrepiece or a cushion by adding a back with fastenings and inserting a cushion pad.
Have fun doing this patchwork.

Return from Cathedral Window Quilt Block to Patchwork Blocks
Is there something not quite right about this page? Please contact me and let me know. Thank you