Kneeling Cushions

added protection for your knees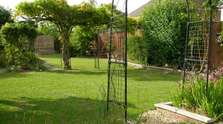 When first thinking about kneeling cushions, the garden was the place I had in mind. These are used while kneeling down to weed the flowerbeds and have protected many knees for years.

Some people are able to bend down and weed while standing but if you are tall or have got a back with a slight weakness in it, it may be easier to kneel down to do this garden work.
These kneelers come in all sizes and even shapes but for me, I find that my whole shins get sore, so I prefer larger kneelers.
Making Kneeling Cushions - some tips

My favourite kneeling cushion did not start life as one but it began as a mattress to a baby's travel cot. When my children had finished with the travel cot,  I decided to use the base as my kneeler. Sadly it has lost its outer covering and now I am at the stage where it needs to be replaced. I am really pleased at my purchase all those years ago.
Size
This kneeler was about 20 inches (50.5cms) square and is really good at protecting your leg from the knee down. If you kneel in an upright position then the size of the kneeler could be halved.

Material
It was made from waterproof material so any moisture from the ground didn't get through. Although this is a good point to think about, a good quality strong fabric can also be used. You have to think about the kind of surface the kneeler may be placed on and a thin fabric could tear easily on any stones or pebbles.
Filling
There is really only one type of cushion pad that would be suitable for this kind of cushion and that is polyurethane foam block. This can be bought in various thickness's to suit the needs of the user. If the material was ripped this would not end up spilling all over the garden as down and feathers or polyester fibre would.
I was also going to add beanbag filling at the end but this would make a good filling if it was made in strong fabric and the pad made separately. These beads would follow the contours of the ground but please take care if you choose this type. Summer could look like winter if the stitching came undone.

Design
The design for these can be a squab cushion which will use a thinner foam block or a boxed edge cushion can be used for extra comfort.These can also be any shape you want. They can be square like the one I had but a circular or rectangle shape will also work.
Whatever design, size, filling and material you choose enjoy using your helpful outdoor cushion.
There are many shops and on line outlets such as The Range selling kneeling cushions and I have included an Amazon search box to help you find the one you need.
Return from Kneeling Cushions to Outdoor cushions
Please take care with any soft furnishing that it does not come into contact with any heat source. 
If you have found an error on this page or want some more information on sewing cushions.
Please contact me . Thank you