Overlap Opening

No fastenings to insert just using the fabric.

The overlap opening may be just right for you if you are not confident with inserting zips, unsure about making the opening wide enough for Velcro or press stud strips and buttonholes just scare you.
Another name for this kind of fastening is an envelope opening, as the material is pulled apart to let the cushion pad be inserted.
Different designs of envelope fastenings can be used as you can make the cushion look like an envelope.

Sewing Steps for an overlap opening

A cushion cover made with an overlap or envelope opening uses three pieces of material. One for the front and two for the back.

You will need to measure your cushion pad and cut out a large piece the size of your cushion for the front and two smaller pieces the same width as the larger piece but each about 3/4 the length of the larger piece for the back.
This is to make sure there enough material to make a hem edge and enough for a good overlap so that the opening does not gape.
Allow for the seam allowance in your calculations as well.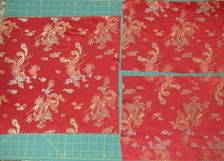 Turn under, press and hem the edges of the back opening. This will give a neater edge.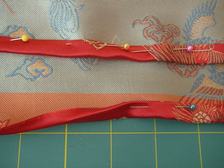 With right sides together pin two backs to the front matching the raw edges and make sure the overlap edges are straight. Sew seam of 5/8 inch (1.5cms) all around.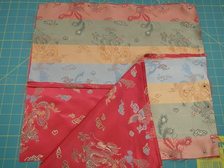 Turn right sides out  and press. The cushion pad  can now be inserted inside the cover.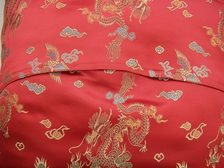 The overlap can be made bigger to give a generous cross over or smaller, making it just meet in the middle of the back. If a small overlap is going to be used then another type of fastening may be needed to stop gaping.

The drawback with it just meeting is that when the cushion pad is inserted then it may push the opening apart. The cushion pad would then be on show with the fabric gaping open.
I prefer to use a wide overlap so that this does not happen. This type of fastening is very quick and easy to make.
Different shopping outlets like The Range offer a wide selection of material. Amazon has a large choice as well.

Congratulations....a cushion cover complete with a fastening has just taken shape.
Please take care with any soft furnishing that it does not come into contact with any heat source. 
If you have found an error on this page or want some more information on sewing cushions.
Please contact me . Thank you
Return from overlap opening back to Cushion Fastenings