Making a Ribbon Cushion

A ribbon cushion can be made by attaching ribbons onto the front of the cushion to create a decorative look or you can make one using only ribbons.
For added strength these could be sewn onto a fabric square so the fabric would not be seen but additional strength can be added at the end by adding iron on interfacing.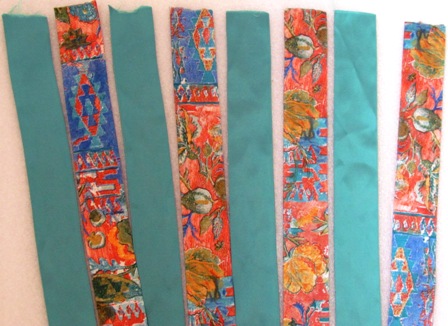 Decide what size to make your cushion and the width of the decorative strips. One width can be used or they can be varied to give a random look. It is probably worth placing everything on a flat surface so you can decide the look you want your cushion to have before you start to hand or machine sew.
Start by joining the strips together by overlapping one on top of the other and then top stitch closely to the edge making sure to catch in both strips.
Continue attaching the strips until you have got your desired width for the cushion front and make another one for the back or use a matching fabric back instead.
Attach the back and put in the fastening of your choice, why not use narrow strips of ribbon to tie the cover on.  Then embellish it with a bow.

This type of cushion would be quite delicate and if wanted you could put the cushion pad inside and then sew the gap closed instead. This would mean that the whole cushion would need to be washed.

Other Ideas

The strips can be interwoven and then sewn together. Adding a strip of a different width will give another look.

Your cushion could have a coordinating border around it.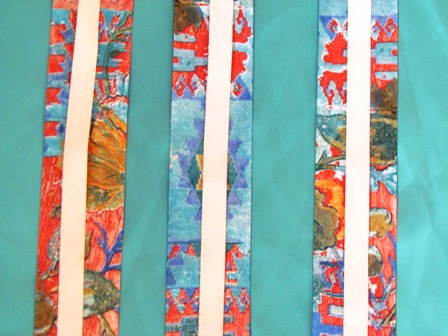 Contrasting smaller strips can be placed on top of the other strips either going the same way or diagonally.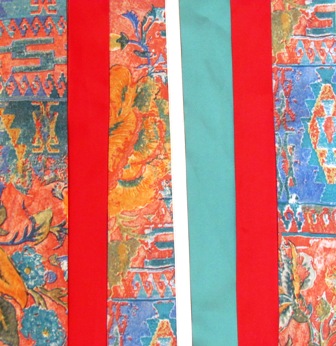 Join the strips in a random design using the colours and widths differently.

Start with a border and then cut your strips diagonally still top sewing each strip to the other. Diagonal strips could be mixed with straight strips to get a very different look.
There are such a lot of different ways you could make these cushions depending on the style and textures of ribbons used.
A viewer posted a cushion she made on the cushion gallery that was made out of unused silk ties which is similar to this idea.
Enjoy developing your look with all the lovely ribbons that are available.

Return from Making a Ribbon Cushion to Ribbon Cushions
Please take care with any soft furnishing that it does not come into contact with any heat source. 
If you have found an error on this page or want some more information on sewing cushions.
Please contact me . Thank you