Wedding Ring Cushions

Wedding ring cushions or pillows are part of a traditional white wedding in western countries.
Who would have thought that part of the soft furnishing family would be sharing such a special day with yours. You can also have other handmade items such as bunting to help you celebrate your day.

The rings are tied onto little pillows or cushions to protect them as they proceed along their journey to the altar and to stop them ending up on the floor if wedding nerves take over.
Sometimes if the rings are too precious then imitation rings can be tied on, so the real ones can be kept safe in the jacket pocket of the best man. These cushions are usually small, white, square and can made from the same material as the dress.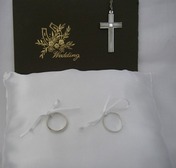 They can be plain, embroidered with a monogram or really ornate and highly decorated. Beads can be sewn on and you can place beaded tassels at the corners. These cushions can also have sequins sewn on to give a little sparkle.
Ideally they will compliment the wedding colours. Although all these choices can be changed to suit the individual type of wedding.
Younger members from either side of the family usually have this role to carry the rings down the aisle. The little bearers face is usually set in concentration to make sure that their important job is done well and just think of the big smile they will have when the final step is done.
Themed weddings could have ones of different shapes, sizes and colours to go with the bride and grooms ideas such as
guitar shaped for rock weddings
butterfly or flower designs for gardeners
heart shaped for the romantics
steering wheel shaped for car enthusiasts
The list is endless, if you have a theme then there is usually one aspect that could be made into this cushion.

Whether you decide to have a ring bearer pillow at your wedding or not , I hope your day is wonderful.

Return from Wedding Ring Cushions to Novelty Pillows
Please take care with any soft furnishing that it does not come into contact with any heat source. 
If you have found an error on this page or want some more information on sewing cushions.
Please contact me . Thank you