Press Stud Strips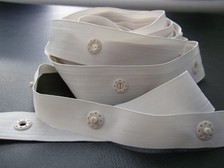 Press stud strips can be used instead of a zip and inserting them into a cushion cover is very much like inserting a zip.
These strips of fastenings are often used for closing cushion covers and quilt covers.
They are good for using on boxed cushions that have a foam block inserts and can be inserted along the back of the gusset or welt.
Sewing in a press stud strip


For easy access while sewing it is probably best put these in place before the rest of the cover is sewn together. If the raw edges are to be finished off  with a zigzag stitch then it should be done first.

Allow a wide enough seam allowance to sew the popper strip into as these are made in pre set widths.
Measure the length of the strip against the seam and sew the seams together at the beginning and end, leaving a gap to insert the popper strip.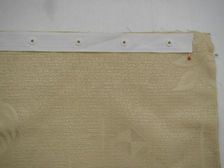 Press the full seam open. This will give the crease lines to place the strip against.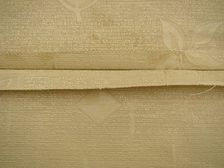 Sew one half of the fastening strip to one side of the seam allowance by sewing along the edge of the strip. It is easier to use the zip foot for the machine as this will not get stuck on the poppers.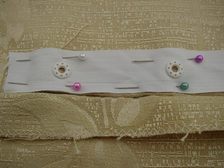 Having sewn one half in place, turn other side to lie underneath the top one as if the material was flat. Make sure the poppers line up correctly so they will fasten together, pin and sew in place.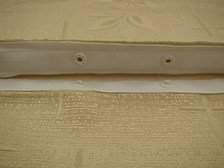 The fastening is now sewn in place.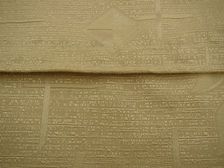 Sew the rest of the seams of the cushion, press and then turn the cushion right side out.
Insert the cushion pad to complete the cushion.

This popper strip can be hidden in the seam of the cushion cover.
If the cushion was a different shape such as the heart cushions, placing the fastening in the seam would make sewing very awkward.
This could then be placed down the centre back. The back of the cushion would have to be cut in two halves with extra seam allowance to cater for this fastening.
It can be difficult to locate these type of fastening but some sewing or craft outlets do stock them either on the high street on on line auction sites.
Velcro could be inserted in the same way as this also comes in pre set widths.
Please take care with any soft furnishing that it does not come into contact with any heat source. 
If you have found an error on this page or want some more information on sewing cushions.
Please contact me . Thank you