Travel Pillow

For indoors or out
Have you ever wondered what a travel pillow or cushion is? Sometimes you wish you had brought a cushion to sit on? These are usually smaller versions that will fit easily into a carry bag or could have a handle attached to make carrying it around easier.
Have you ever found yourself wanting something to sit on or to get a little extra comfort while you are out?
A Travel pillow or travelling cushions will give this to you. 
Whether you have decided to go out in the car, on your boat or in your caravan taking a smaller version of your favourite cushion will give added support and make you comfortable.
Some travel pillow ideas.


Sometimes the seats in a car, boat or caravan can be a little hard and they may not give enough support to your lower back. Bolster cushions can be taken and these will easily fit into the small of your back or by your side.

Extra warmth can be added easily by using a smaller quillow. The larger ones have a single sized quilt folded up inside the cushion but this could be too large for a car. Smaller ones have a half sized quilt instead which would lay better over your knees to keep you warmer.

Making your own travelling cushions
These smaller quillows are also great for giving extra warmth at outdoor concerts. The day could be beautiful, nice and sunny. These quillows would be at the back of your chair or used as pillows on the floor. As the concert continues, the day turns to evening and the temperature drops. The mini quillows turn into a little blankets to put over your knees, keeping you warm.
Have you ever decided to go for a picnic on a lovely summer day and found that, when you got to the park, everyone else had the same idea and all the benches/tables were taken. .
If the dusty ground is not comfortable for you, little boxed cushions can be made into picnic seats. These could also be useful when sitting at a baseball game or any venue that offers a hard seat to sit on.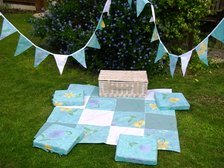 Once you have decided to go on your picnic, there are other items that will compliment the picnic seats. Such as a little ground cloth to put the food out on and some bunting to turn your picnic into a little celebration.

Wherever you are travelling, have a great time and enjoy.
Return from Travel Pillow to Outdoor Cushions
Please take care with any soft furnishing that it does not come into contact with any heat source. 
If you have found an error on this page or want some more information on sewing cushions.
Please contact me . Thank you
Wherever you are going to be it in a car, boat, caravan or park enjoy taking your cushions with you.