Celebrate the Seasonal Changes


Cushions are one of the easiest ways of embracing the seasonal changes.
The changes in the seasons give a change of colour naturally and this can be brought into your lounge or living room. Any additional cushion or colour could enhance or compliment your chosen scheme.
It isn't only colours that have changes but birds, animals or plants can remind you of the different seasons.
If your colour scheme does not match the season in question then that does not matter at all. The use of shapes depicting the celebration can be incorporated into any colour.
Wall hangings can be made to remind you of a special celebration.
You do not need an attic full of cushions for all seasons but changing the covers or introducing different shapes would have an instant effect.

Popular Seasonal Celebrations

Christmas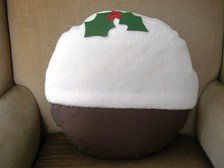 Taking Christmas as an example of colour. Red and green are traditionally Christmas colours but in the shop these days there is a rainbow of different coloured artificial trees and decorations.
There are many different colours and shapes of stockings to buy that will match or coordinate your colour scheme.
Cushions can be made ,as the one in the picture, embroidered or decorated with appliqué shapes to represent the day in question. These can be made in vivid or natural colours.
Advent calendars can be hung up to count down the days until this event.

---
Easter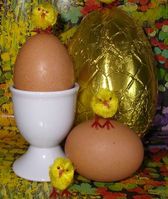 The vivid colours of Spring and Easter can bring a fresh look and feel to your room. Easter also brings a different shape to incorporate into cards or cushions.

---

Halloween
Get your rooms decorated for Halloween, with black cushions with spiders webs appliquéd onto them to give a haunted look.  How about some pumpkin cushions and other items to created the perfect scary atmosphere perfect for a party.

---
Patron Saints Day

Whether it is celebrating Saint David's, Saint George's, Saint Patrick's or Saint Andrew's Day there are many shapes, colours and items that can be made for these events.
---
Valentines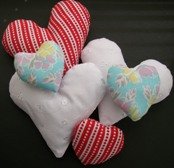 Celebrate Valentines Day by hanging up some hearts, or make some heart cushions that will look great when the day has passed as well.
Sometimes even the smallest change can have the desired effect.
Whatever and whenever you are celebrating enjoy the day.............................

Return from Seasonal to Cushions and More
Please take care with any soft furnishing that it does not come into contact with any heat source. 
If you have found an error on this page or want some more information on sewing cushions.
Please contact me . Thank you