Start making your own Cushion Patterns



Making cushions begins with the cushion patterns, some people like to have a specially bought pattern they can easily place it on a piece of fabric and then cut it out and there is nothing wrong in doing it that way.
From pin cushions to floor cushions sometimes there will not be one available to buy so you can start at the beginning yourself.
---
Making Cushion patterns for

---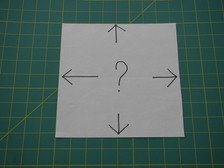 Making your own patterns may take you a little longer but you can then have the cushions to suit your own needs. There may be many things to take into consideration when making cushions but first start with the two main ones........
What size to make it?
What shape shall it be?
Depending on where you are going to place the cushion then these questions should be sorted out fairly quickly. If you were going to make a pin cushion then you would not need one much bigger than 3 or 4 inches (10 cms) and a scatter cushion wouldn't really be smaller than 6 inches (15.5 cms) but even then it wouldn't give much extra support.
If you struggle in getting some shapes started there are a few ways in making a circular pattern for a round cushion. Cushions that are shaped like a heart can be varied by the depth of the "V" between the halves.

One of the main rules you need to follow is to make sure you allow an extra 5/8 inch (1.5cms) seam allowance or the finished cushion will be smaller than you wanted. You may need to have more seam allowance where you may want to put in a zip, velcro or a press stud strip. This is because these have a set width and may overlap a smaller seam.
The pattern is then drawn onto paper, stiff card or cardboard depending on what you are making. Pins will not go through cardboard or stiff card very easily and I would use these if I was going to draw around the shape directly onto the material. Craft paper can be bought in shops but I have used greaseproof, lining or foolscap paper as well with equally good results.
You now have a pattern consisting of two pieces, a front and back in the shape you would like. Extra additions that you may want would be whether......
A frill is to be added


You need depth to the cushion.
A frill can be cut straight from the material if you measure and mark the depth and width of it, but a pattern can be made for this as well. If you wanted depth to a cushion then this would be like the gusset in a box shaped cushion.

Let your imagination go when thinking of your cushion patterns and try to experiment a little. Sewing can easily be unpicked if the shape or style does not work and I know that it can be a little frustrating but with a bit of working out you will be really pleased with the end result knowing that you have made it all from the beginning.
Return from Cushion Patterns to Cushion Designs
Is there something not quite right about this page? Please contact me and let me know. Thank you