It all Begins with
Patterns


Patterns whether they are for sewing, crafting or knitting are a very useful guide in getting the end result of a handmade item.
In sewing these will act as a template that you pin on the fabric and cut around with sewing scissors. 

They give important guidance to where the notches or darts are to be located for a perfect fit and will give step by step help.
They will also let you know the suitable type of fabric and what kind of fastenings you could use.
There is always a way to alter any pattern to suit what you would like,  but the suggestions given are what the manufacturer of the patterns would use to get the best results.
Many different companies such as Simplicity, McCalls and Burda will have patterns for all types of clothes for children, adults and babies not to mentions lots of household items.
The clothes patterns may have multiple sizings if they are in a size range group. They can also just be in the one size.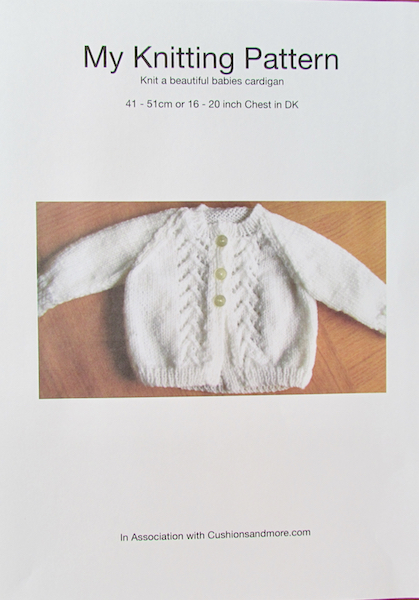 There are various sizes on the same pattern for knitted clothes and there are also patterns for many household accessories.

Knitting patterns give all the steps in making items including any special abbreviations that may be unique to that design. This could be a special cable twist or a different way to an increase or  in stitches.
They will give the type of wool suitable, the quantity needed and the size of needles to use.
Some jumpers and cardigans do have some very complex multicoloured designs and it does help if you can read a knitting pattern.
Craft Kits 
Many crafts have kits to help make an item and provide all the equipment for this such as cross stitch, needlepoint or embroidery kits for cushions.
The kits will comprise of:
- Slightly more Aida fabric that would be needed. This would be so when sewing the work could be mounted in a hoop to keep the fabric taut and when finished the work can be easily framed.
- The needle
- The correct colours of threads
- The guide in how to complete the item and these will have different symbols that indicate a different coloured thread to help in sewing the pattern correctly.
Making cushions can begin with the cushion pattern, some people like to have a specially bought ones that can be easily place on a piece of fabric and then cut it out.

There is nothing wrong in doing it that way as it is a matter of what you prefer and some more complicated cushions do require some kind of help and guidance.
However if it is just to get a basic shape these can be done without the need to buy one. 
If this sends shivers down the spine then just take a look for things to trace around to get the shape.
From pin cushions to floor cushions sometimes there will not be one available to buy so you can start at the beginning yourself.
Making your own patterns may take you a little longer but you can then have the cushions to suit your own needs. There may be many things to take into consideration when making cushions but first start with the two main ones........
What size to make it?
What shape shall it be?
Depending on where you are going to place the cushion then these questions should be sorted out fairly quickly.
If you were going to make a pin cushion then you would not need one much bigger than 3 or 4 inches (10 cms) and a scatter cushion wouldn't really be smaller than 6 inches (15.5 cms) but even then it wouldn't give much extra support.
If you struggle in getting some shapes started there are a few ways in making a circular pattern for a round cushion. Cushions that are shaped like a heart can be varied by the depth of the "V" between the halves.

One of the main rules you need to follow is to make sure you allow an extra 5/8 inch (1.5cms) seam allowance or the finished cushion will be smaller than you wanted. You may need to have more seam allowance where you may want to put in a zip, velcro or a press stud strip. This is because these have a set width and may overlap a smaller seam.
There isn't usually a pattern for curtains because of the size of some of them. How to measure for curtains is done by measuring the window and calculating the curtain lengths needed.
However additional item for curtains such as tie backs, pelmets and valences can come as a pattern. 
Many shopping outlet have patterns and Abakhan do have ones for cushions although the wording they use is pillows. Some sewing patterns come free or able to purchase from certain magazines. 
Have fun, experiment and enjoy.
Please take care with any soft furnishing that it does not come into contact with any heat source. 
If you have found an error on this page or want some more information on sewing cushions.
Please contact me . Thank you