How to Make Cushion Covers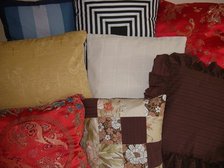 Making new cushion covers will revamp and revive any cushion. Using the on trend colour and style will bring old ones right up to date and change the look of a room.
During the year these can be changed often. One way is to celebrate the seasons like Easter and Christmas . A good time to ring the changes is in Spring, bring any room up to date by adding covers in the new season colours. Not forgetting to wash the old ones.
Some cushions do not have removable covers so the seams are slip stitched closed after the padding has been added. When these are washed the whole cushion is washed. Making a cover is very similar to a cushion with the addition of a type of fastening so that it may be removed and washed separately.
Making a cover is simply cutting out a front and back piece and then inserting a type of fastening. These can be lined or unlined and this depends on the weight of fabric that is being used. A lighter or sheer fabric may benefit from having a lining to make it stronger whereas a heavier weight fabric may not need to be lined.
These can also be decorative by not meeting completely if fastened by ties and showing another decorative cushion underneath. This could be done with a sheer fabric over a stronger patterned one to give a different look.

Making Cushion Covers -


For Heart Shaped Cushions
Many different outlets have lovely fabrics such as Minerva Crafts.
Covers can be made out of the many types of fabric available from the natural fibres of cotton, linen and silk to the man made ones.
Adding different textures by using velvet, brocade, corduroy, faux fur or tweed which are all variants and mixtures of fabrics also can add interest in a room and it is good to touch and feel different textures.
Decorate and show off your skills at different crafts
All these different techniques can be used to make your individual covers and really different effects can be reached if you try to mix two or three techniques.
Enjoy making your covers
Return from How to Make Cushion Covers to Cushions and more
Please take care with any soft furnishing that it does not come into contact with any heat source. 
If you have found an error on this page or want some more information on sewing cushions.
Please contact me . Thank you