Kitchen Chair Cushions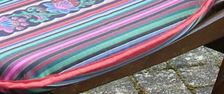 Kitchen chair cushions can be made to enhance the look of probably the most widely used room in the house. Usually these chairs are made out of wood or metal and can be quite uncomfortable, so to make mealtimes better a softer seat may be advisable.

They can match in with the curtains or other fabric decoration. They can even show off your passion whether you are a keen gardener and grow vegetables, enjoy growing lovely flowers or are tending to a flock of chickens.
These are usually a thin cushion, called a squab cushion, although they can be made as plump as you want or need. Some people also use a small scatter cushion made in a simple design. These styles can also be used outside when you are enjoying your meals on the balcony or patio.

Many different shopping outlets have these if you need them quickly, such as The Range and Amazon has a lot to choose from.

Making Basic Kitchen Chair Cushions

The fabric used for the kitchen should be washable and fairly durable like a medium to heavyweight cotton. That way any spills can soon be dealt with.

A pattern will need to be made by taking the measurements of the chair base, width and length and drawing this onto a piece of paper or straight onto the material.
The type of fastening  will have to be decided before you cut out the material as you may need to alter the back of the cushion if an envelope opening is to be used.

Place your fabric right sides together and place your pattern on top or mark out the size you need with pins not forgetting to add some seam allowance. Cut out material.
Either insert the fastening before the seams are sewn or sew the seams leaving a gap for the fastening. Sew seams. Turn right sides out and press.

The filling or pad for the cushion needs to be decided whether an inner pad is to be used so the cover can be taken off and washed separately. Other fillings could be  a thin piece of foam or two or three layers of wadding can be put into the cover and then the gap slip stitched closed. This would mean that the whole cushion would have to be washed as there would be no removable cover.
Insert the pad or filling, slip stitch the gap if needed.

The basic cushion is now finished. This can be enhanced by attaching tie fastenings to hold it in place to the back of the chair. A country look can be achieved by adding  a frill. If a deeper cushion is needed then a box edge design may be more suitable.
Enjoy making cushions for your kitchen.
Please take care with any soft furnishing that it does not come into contact with any heat source. 
If you have found an error on this page or want some more information on sewing cushions.
Please contact me . Thank you